As food establishments continue to navigate the COVID-19 pandemic, it's important to stay informed about best practices for operating during COVID-19. The following free resources will help you operate your business safely.
Pandemic Resources for Food Service Businesses
Information about COVID-19
Information about operating during COVID-19
Posters, stickers, and signs
Information about food safety training and certification
---
Coronavirus 101
Beware of misinformation about contagious disease. During a crisis, you should always look to the experts to answer your questions. This article contains information about COVID-19 from the Centers for Disease Control and Prevention and the World Health Organization.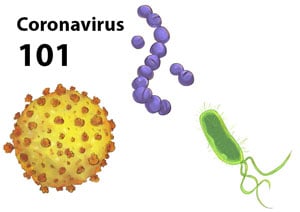 ---
9 Tips for Reopening Your Restaurant
Read Article
Preparing to reopen your dining area? Make a reopening plan based on best practices from the FDA and CDC to help keep your employees and customers safe!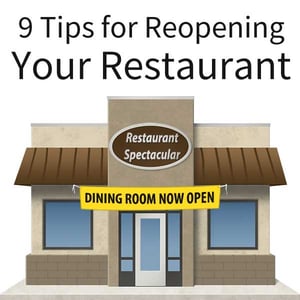 ---
What Do Food Workers Need to Know about Masks?
Read Article
If you're a food worker, you may be required to wear a mask. Wearing a mask will help prevent the spread of illness in our most frequented essential businesses — restaurants and grocery stores.
---
COVID-19 Cleaning Checklist for Food Establishments
Download 8.5 x 11
Follow this cleaning checklist before and after reopening to ensure your establishment stays clean and sanitized.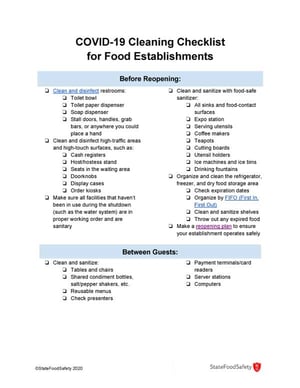 ---
My Employee Tested Positive for COVID-19, Now What?
As a food manager or administrator for a food company, there are 5 steps you should take when one of your employees tests positive for the novel Coronavirus.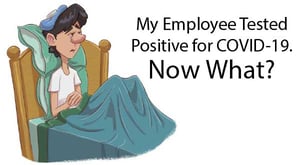 ---
10 Ways Food Establishments are Dealing with COVID-19
Whatever the challenges and changes you're facing, you're not alone. We hope these 10 ideas from other food establishments can also help you operate safely.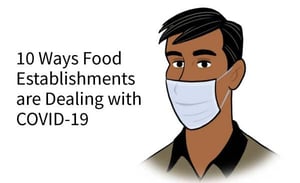 ---
How to Handle Food Delivery and To-Go Orders Safely
Being a safe food delivery driver boils down to three simple things: 1) avoiding cross-contamination, 2) practicing good hygiene, and 3) keeping food at safe temperatures. Learn more in the article.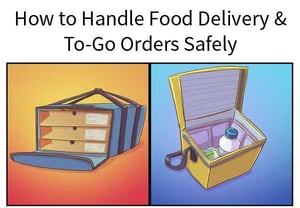 ---
How to Support Restaurants During COVID-19
COVID-19 continues to have a big financial impact on restaurants. In areas where dining areas are still closed, consumers can support their local restaurants in three ways.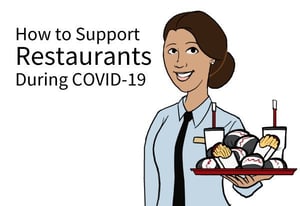 ---
Stand-Up Training: Operating During COVID-19
Training your employees about preventing COVID-19 is extremely important. They should know what precautions to take to keep themselves and your customers safe.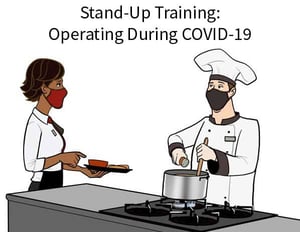 ---
5 Ways to Stay Safe During COVID-19 Poster
As you reopen your dining area, the CDC and FDA recommend putting up posters with reminders for how workers and customers can stay safe during COVID-19.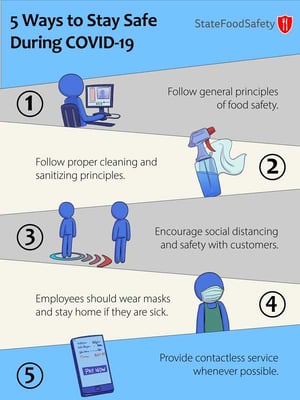 ---
COVID-19 Prevention Poster
Download 8.5 x 11
You can help prevent COVID-19 by following eight simple guidelines. Share this poster to help spread the word!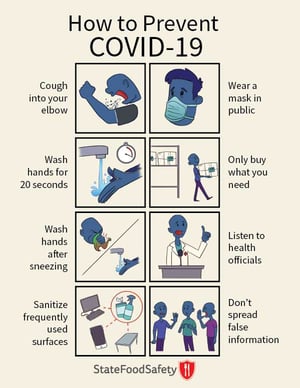 ---
Employees Must Wear Masks Poster
The CDC and FDA have both advised food workers to wear masks during work. Masks help prevent respiratory droplets from the mask wearer from spreading, which is important if a food worker has COVID-19 without knowing it.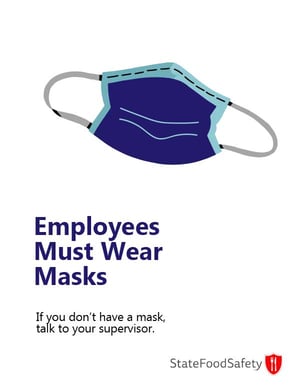 ---
How to Properly Wear a Mask Poster
The CDC makes it clear that masks must be worn correctly in order to prevent germs from spreading. Use this poster as a reminder of the five steps of proper mask wearing.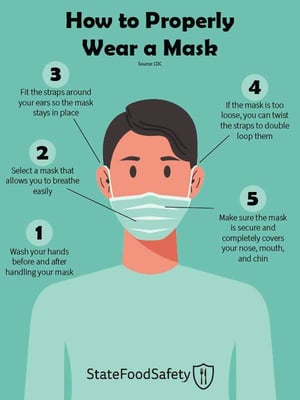 ---
What Kind of Mask Should I Wear Poster
There are several different kinds of face coverings, including cloth masks, surgical masks, N95 respirators, and face shields. The CDC recommends members of the public wear cloth masks.
---
Steps of Handwashing Poster
Download 8.5 x 11
The single most important personal hygiene habit is proper handwashing. Washing your hands frequently and thoroughly helps you stay healthier and helps everything you touch stay cleaner. Always wash your hands before touching food!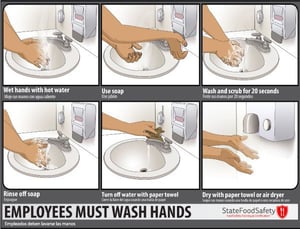 ---
Handwashing Stickers
These stickers are intended to go on bathroom mirrors or paper towel dispensers.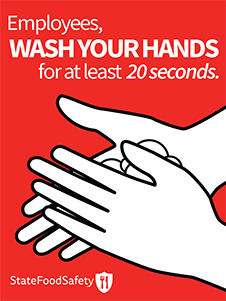 ---
"Feeling Sick?" Poster
If you're feeling sick, one of the best things you can do for yourself and others is to stay home from work. If you work with food, there are some symptoms you must report to your manager before going to work.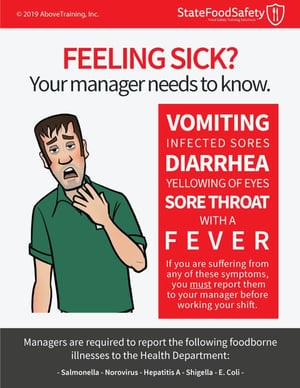 ---
Food Worker Illness Flowchart
Download 8.5 x 16.5 | 8.5 x 11 | 18 x 24
If you're a food manager, you should know the Food Code's guidelines for handling employee illness. Depending on the employee's symptoms, they should be 1) allowed to work normally, 2) allowed to work but kept away from food, or 3) sent home. This flowchart will help you know what to do.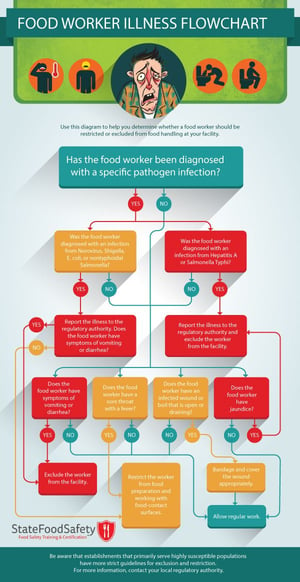 ---
Food Delivery Safety Poster
According to the FDA, there is currently no evidence that COVID-19 can be transferred through food or food packaging. However, there are some basic safety tips you should follow when delivering food or receiving a food delivery.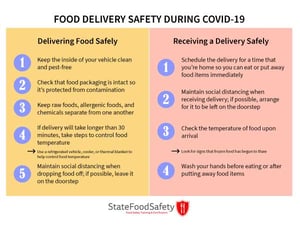 ---
Cleaning in Place Poster
Follow these steps to clean equipment that is bulky, sealed to a countertop, or too heavy to move.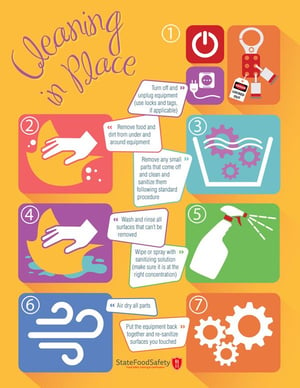 ---
How to Sanitize vs Disinfect Poster
Don't confuse sanitizer with disinfectant. Although they both help you keep your establishment clean and hygienic, they're meant for different types of surfaces!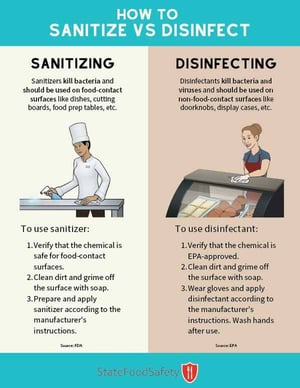 ---
Hand Hygiene Training Course
Watch on StateFoodSafety.com | YouTube (English) | YouTube (Español)
This animated training course will help food workers understand why handwashing is so important, when it's necessary, and how to do it properly.
Length: 10 minutes
Available languages: English, Español
Recommended but not required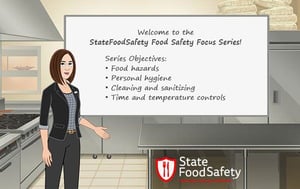 ---
How to Educate Your Foodservice Staff Online
You can help make sure your staff stays up-to-date on best food safety practices despite COVID-19 restrictions by moving all your training and testing online.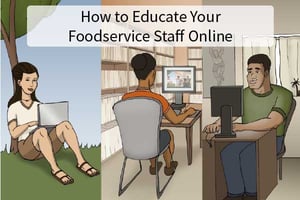 ---
How to Take the Food Manager Certification Exam while Social Distancing
StateFoodSafety offers an online manager exam and online proctoring, which means managers can get their Food Protection Manager certifications 100% online without leaving their homes.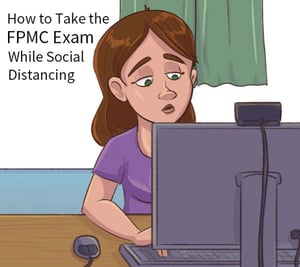 ---
Online Proctoring FAQs
Because online proctoring isn't as common as traditional in-person proctoring for the food manager exam, people often have questions about how it works. We've answered six of the most frequently asked questions here.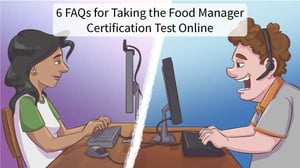 ---
Information Sheet About Online Proctoring

Download 8.5 x 11
Get more details about how online proctoring works and what equipment is required for managers to be able to take the Food Protection Manager Certification Exam at home.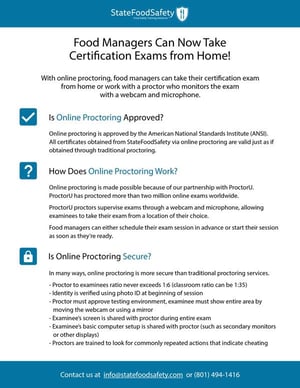 ---
Myth Busters About Online Proctoring Poster
Because online proctoring is a relatively new way to take the Food Protection Manager Certification Exam, people sometimes have misconceptions about it. This poster will dispel four common myths about online proctoring.