As community members ourselves, the StateFoodSafety team knows how deeply disasters can affect families and businesses. We welcome you to download and share the resources on this page with others.
Safety Resources
Use these free resources to help teach others how to maintain their health and hygiene even during an emergency situation.
Charitable Feeding Course
Watch on StateFoodSafety.com
This animated training course will give charitable feeding volunteers an understanding of basic food safety principles, including how to safely prepare, transport, and serve food.
Length: 22 minutes
Available languages: English, Español
Intended for volunteers; does not replace a food handlers card or food manager certification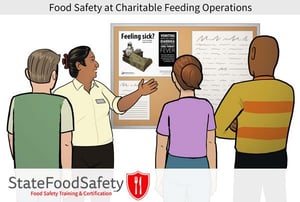 ---
Hand Hygiene Training Course
Watch on StateFoodSafety.com | YouTube (English) | YouTube (Español)
This animated training course will help food workers understand why handwashing is so important, when it's necessary, and how to do it properly.
Length: 10 minutes
Available languages: English, Español
Recommended but not required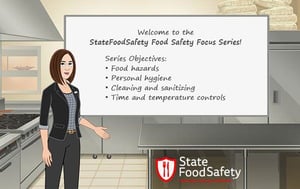 ---
Steps of Handwashing Poster
Download 8.5 x 11
The single most important personal hygiene habit is proper handwashing. Washing your hands frequently and thoroughly helps you stay healthier and helps everything you touch stay cleaner. Always wash your hands before touching food!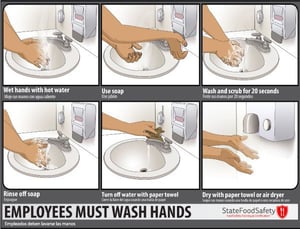 ---
Handwashing Stickers
These stickers are intended to go on bathroom mirrors or paper towel dispensers.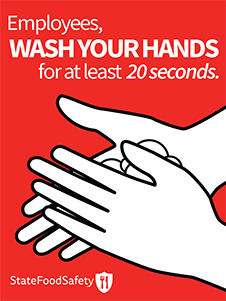 ---
"Feeling Sick?" Poster
If you're feeling sick, one of the best things you can do for yourself and others is to stay home from work. If you work with food, there are some symptoms you must report to your manager before going to work.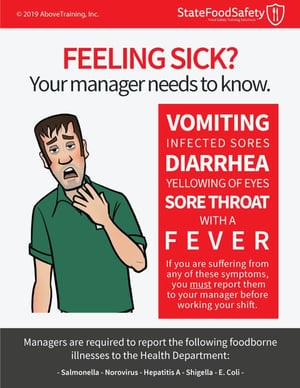 ---
Food Worker Illness Flowchart
Download 8.5 x 16.5 | 8.5 x 11 | 18 x 24
If you're a food manager, you should know the Food Code's guidelines for handling employee illness. Depending on the employee's symptoms, they should be 1) allowed to work normally, 2) allowed to work but kept away from food, or 3) sent home. This flowchart will help you know what to do.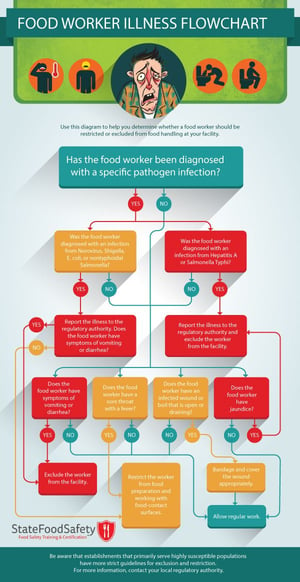 ---
What to Do During a Viral Outbreak Poster
Download 8.5 x 11
You can help protect yourself from viral outbreaks by following eight simple guidelines. Share this poster to help spread the word!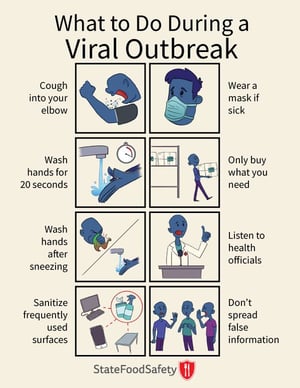 ---
Drink Safe Water Poster
Health departments issue a boil water advisory, or boil water notice, whenever a contaminant gets into drinking water. Follow the instructions in this poster to make sure your water is safe to drink.
---
Cooking Times and Temperatures Poster
Cooking foods to proper temperatures is a vital step in ensuring they are safe to eat.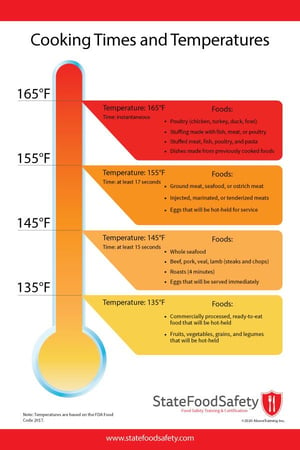 ---
Food Safety and Hygiene for Volunteers Poster
It is essential to follow safe food handling practices in places like soup kitchens and homeless shelters due to the at-risk communities they serve. Share this poster with food volunteers.